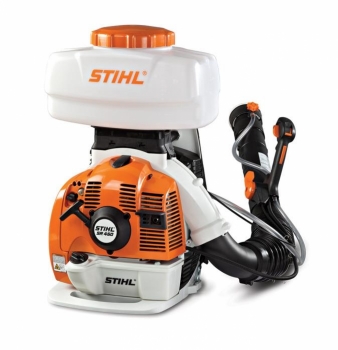 Product Information
Stihl SR 450 Mistblower
For both the distribution of liquid or solid insecticides, fertilizers, or herbicides, the low-emission, fuel-efficient STIHL SR 450 Backpack Sprayer has a larger, more powerful engine that provides a spray range 20% wider than previous models, taking 20% less time to spray the same area, depending on application. The SR 450 easily converts from misting to dusting applications without special tools or additional equipment, and air speed can be easily adjusted during use for greater application and less product waste. The SR 450 can also be used as a backpack blower for debris cleanup
| | | |
| --- | --- | --- |
| DISPLACEMENT | | 63.3 cc (3.86 cu. in.) |
| ENGINE POWER | | 2.9 kW (3.9 bhp) |
| FUEL CAPACITY | | 1700 cc (57.5 oz.) |
| CONTAINER CAPACITY | | 14.0 L (3.7 gals.) |
| WEIGHT | | 12.8 kg (28.2 lbs.) |
| MAXIMUM SPRAY RANGE | | Horz.: 14.5 m (48 ft.) Vert.: 13.0 m (43 ft.) |
| AIR VELOCITY | | 90 m/sec. (201 mph) |
| AIR VOLUME | | With Tubes: 920 m 3 /h (542 cfm) |
Standard Features
BR - Multi-Function Control Handle
Multi-Function Control Handle Having easy access to all of the controls on one comfortable handle makes it easy to complete tasks so the operator's hand never has to leave the handle.
BR - Anti Vibration System
Anti-Vibration System The STIHL anti-vibration system helps reduce operator fatigue and provides a more comfortable working experience.
BR - Adjustable Support Harness
Adjustable Support Harness STIHL backpack blowers and sprayers are equipped with an adjustable support harness that distributes weight evenly across the shoulders and back, reducing user fatigue. See it in action!