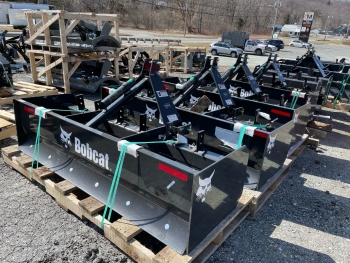 Product Information
Bobcat 72" Box Blade / Scraper 3 pt.
The tractor box blade offers impressive versatility for leveling, backfilling, grading and moving a variety of material, including gravel, topsoil, mulch, manure and more. Lower the cutting edge to cut, and raise it to dump the material.
This compact tractor implement features heavy-duty rear-mount cutting edges that are strong enough to retain gravel, topsoil or other material you need to move. Adjustable and replaceable ripper shanks break up hard ground or compacted soil for easier moving. Steel cutting blade edges are reversible and replaceable to increase the life of your implement.
How The Box Blade Implement Works
The box blade implement does not require PTO. Simply attach it to the 3-point hitch and get started. The implement can be raised or lowered to control the height of the cutting edge. Lower the cutting edge to cut, and raise it to dump the material.
Things To Do With A Box Blade
The box blade for tractors grades, levels and backfills uneven roads, driveways, gardens or areas around barns and buildings.
Collects gravel to level ruts and potholes.
Cleans up and levels mulch piles.
Clears material out of barns.
Creates gravel roads or driveways.
Box Blade Features
4-Hole Ripper Shanks: Adjust up or down to vary the cutting depth for mixing loose soil or tearing through compacted soil or rocks.
Replaceable Ripper Shanks: Heavy-duty ripper shanks can be replaced to extend the life of your box blade implement.
Front and Back Blades: Cutting edges on the back and front allow you to work in forward or reverse to get more done in less time.
Reversible/Replaceable Steel Cutting Edges: Flip the blade over to get a fresh cut, then replace it to extend the life of your implement.
Three Widths: 48-inch, 60-inch and 72-inch models available.
Category 1 3-Point Hitch: A 3-point hitch is used to attach your rear-mounted box blade implement. An adjustable top link is centered above two lower link arms, comprising the three points. The box blade implement quickly and easily attaches with connecting pins at each point.
Durable, Corrosion-Resistant Powder-Coat Finish: Protects the box blade for extra-long life out in the elements.