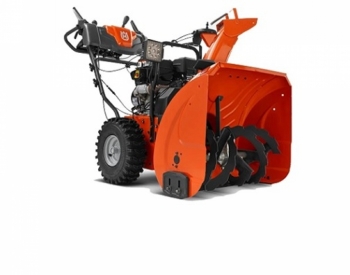 Product Information
Husqvarna ST227
Features for the Husqvarna ST227
LED headlight/ s
Easy to operate when its dark.
Power Steering
Convenient trigger control power steering allows superior maneuverability in adverse conditions.
Oversized heavy tread tires
Better traction is achieved with 16" x 6.5" deep tread tires.
Two-stage system
Snow is fed into the housing by an auger and then discharged through the chute by an impeller.
Electric starter
Connect to a power outlet and start the engine by pressing a button. Our starter system ensures that you'll never have to worry about a dead battery.
Handle height adjustment
Adjustable handle height for improved ergonomics.
Remote chute deflector
Control the vertical throwing direction with a lever on the panel.
Clearing stick
If the chute clogs, it is easy to clear it with the clearing stick.
Interlock handle
For single hand control and easy operation.
Friction disc transmission
For easy speed changes depending on snow conditions.
High speed impeller
Gives extra-long snow throwing distance.
Adjustable skid shoes
Makes it possible to adjust the space between the auger housing and the ground to protect the ground/surface.
Premium control cables
Durable cables for long lifetime, with improved resistance to cold weather.
Robust auger housing
For sturdy operation, efficient clearing, and long product lifetime.
Pin-lock wheels
For tool-less shifting and maintenance.
Aluminum auger gearbox
Durable auger gearbox with 5-year warranty.
Quiet muffler
For user comfort.
Throttle control
Makes it possible to idle down the engine when not clearing.
Remote chute rotator
Fast and easy change of the chute direction with a lever on the panel.
Ribbon auger
The ribbon auger mixes air into the snow, which makes the snow easy to handle and thereby ensures efficient clearing.
Plastic skid shoes
For merciful treatment of delicate grounds. The skid shoes are reversible for long lifetime.
X-trac, heavy-tread tires
X-trac, heavy-tread tires for extra good traction.
Specifications
Engine
Fuel tank volume (with reserve): 0.71 gal (US)
Net power at preset rpm Energy: 6.3 kW
Cylinder displacement: 254 cm³
Transmission
Transmission type: Friction Disc
Transmission steps forward: 6
Transmission steps reverse: 1
Sound and noise
Sound pressure level at operator's ear: 88.4 dB(A)
Sound power level, guaranteed (LWA): 105 dB(A)
Vibrations
Vibrations handles: 4.66 m/s²