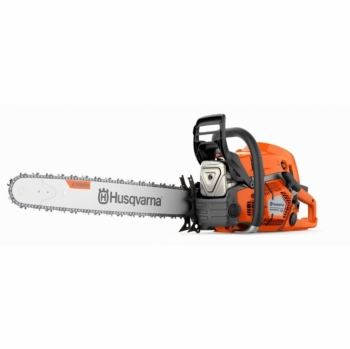 Product Information
Husqvarna 585
Starting at $1369.99 with a 24" bar and chain. ****Other sizes available.
Features for the Husqvarna 585
Durable and fit for heavy-duty challenges
The robust design with high-quality components, the easy-to-adjust carburetor and the heavy-duty air filtration system make it easy to take on the most challenging of tasks.
More powerful and convenient
The chainsaw delivers excellent cutting capacity as well as reduced vibration levels and optimized maneuverability for a superior cutting experience.
Reliable performance with various fuels
The chainsaw is designed to run efficiently with various fuel qualities, including fuel with higher ethanol levels of up to 25%.
Equipped with X-Tough™ guide bar
The chainsaw is equipped with a durable Husqvarna X-Tough™ guide bar with a long product lifetime that ensures straight cuts and minimal pinching.
Service connector
Easier diagnostics means quicker and better service at the dealer. The service connector allows the technician to connect your saw to the digital service tool and perform all vital checks in no time.
Lightweight muffler
A lightweight muffler contributes to the chainsaw's lower overall weight, which ensures comfort and efficiency without sacrificing performance.
Retained bar nuts
The retaining function prevents losing the bar nuts.
Equipped with state-of-the-art filtration system
Chainsaw comes equipped with a heavy-duty filter for longer and better filtration via a larger filtration area compared to previous designs. Ensures a healthier engine that's optimized for long working hours.
Air Injection filters 98% of incoming dust
The Air Injection™ feature on the chainsaw filters 98% of incoming sawdust, grit, and dirt to reduce the amount of air filter cleanings and always ensure high performance.
Optimal chip ejection avoids clogging
The specialized clutch cover is designed to ensure the rapid and safe ejection of saw chips, preventing clogging even when cutting long wood fibers.
Retained starter screws
A retaining function prevents the accidental loss of the screws holding the starter.
Fast acceleration
Engine parts are designed to be low weight and optimized for faster acceleration.
Felling sight to last a lifetime
Having a perfect sight is critical when using a chainsaw – so we made one that's permanently molded into the chainsaw for long-lasting felling accuracy.
Visible fuel level
The large transparent tank window makes it quick and easy to check the fuel level immediately without opening the fuel tank's lid.
Flip-up tank caps
Flip-up fuel tank caps are easy to open and secure firmly, even when wearing thick winter gloves.
X-Torq®
The powerful and efficient X-Torq® engine cuts both engine emissions and fuel consumption, improving your working environment and saving you money at the gas pump.
Specifications
Engine
Power output: 6.9 hp
Cylinder displacement: 86 cm³
Maximum power speed: 9,600 rpm
Idling speed: 2,800 rpm
Torque, max: 5.3 Nm
Torque, max. at rpm: 7,800 rpm
Clutch engagement speed (±120): 4,300 rpm
Fuel consumption: 450 g/kWh
Fuel consumption: 5 lbs/h
Spark plug: NGK CMR6H
Electrode gap: 0.02 in
Ignition module air gap: 0.01 in
Oil pump type: Adjustable flow, no flow at idle
Exhaust emissions (CO2 EU V): 792 g/kWh
Equipment
Bar length (inch): 28 in
Recommended bar length, min-max: 18-36 in
Chain type: C83
Pitch: 3/8"
Gauge: 50"
Sprocket type: NGK CMR6H
Dimensions
Weight (excl. cutting equipment): 16.5 lbs.
Lubricant
Lubricant type: Husqvarna 2 stroke or equiv. at 50:1
Oil tank volume: 0.89 US pint
Sound and noise
Sound power level, guaranteed (LWA): 119 dB(A)
Sound power level, measured: 118 dB(A)
Sound pressure level at operator's ear: 112 dB(A)
Vibrations
Equivalent vibration level (ahv, eq) front handle: 7 m/s²
Equivalent vibration level (ahv, eq) rear handle: 6 m/s²