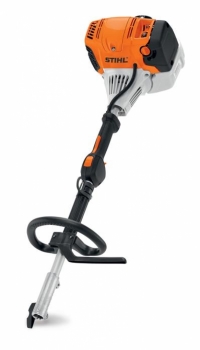 Product Information
STIHL KM 131 R
Compatible with over a dozen interchangeable attachments, the KM 131 R KombiMotor offers professional landscapers versatility, power, and 30% longer run times than previous models. The KM 131 R also features 33% more engine power than the KM 111 R, letting you finish your jobs faster. The KM 131 R is also easy to operate, featuring a semi-automatic choke lever, one-touch stop switch, anti-vibration system and a specially designed quick-release coupling system for easy switching between attachments. Don't wait – see the KM 131 R today at our Dealership! The STIHL KombiSystem is a versatile landscaping system that includes a powerful STIHL KombiMotor and a full line of attachments. Together, they give landscaping professionals the ability to tackle a tremendous range of outdoor tasks without loading the trailer with a pile of tools. Attachments include trimmers, blowers, hedge trimmers, edgers, pruners, cultivators and more. Each attachment slides into the KombiMotor effortlessly and is secured via a quick-release coupling system, saving you time as well as trailer space. NOTE: STIHL KombiMotors and STIHL KombiSystem attachments are sold separately. *A majority of STIHL gasoline-powered units sold in the United States are built in the United States from domestic and foreign parts and components.
| | | |
| --- | --- | --- |
| DISPLACEMENT | | 36.3 cc (2.2 cu. in.) |
| ENGINE POWER | | 1.4 kW (1.9 bhp) |
| FUEL CAPACITY | | 710 cc (24.0 oz.) |
| POWER SOURCE | | Gas |
| WEIGHT | | 4.4 kg (9.7 lbs.) |
Standard Features
AA Caring for Nature
Caring for Nature The STIHL Inc. "Caring for Nature" seal identifies its powered products that are more environmentally conscious, producing zero or low exhaust emissions. STIHL Inc. defines "low exhaust emissions" as being cleaner than EPA and/or CARB exhaust emission standards.
Built in the USA
Built in the USA A majority of STIHL gasoline-powered units sold in the United States are built in the United States from domestic and foreign parts and components.
KM - Anti - Vibration System
Anti-Vibration System STIHL has a system for minimizing the vibration levels of handheld outdoor power equipment. The STIHL anti-vibration system helps reduce operator fatigue and provides a more comfortable working experience.
KM - Electronic Ignition Module
Electronic Ignition Module The electronic ignition provides reliable starting and because it is fully enclosed, it is protected from moisture and debris for longer service life.
KM - Loop Handle
Loop Handle The loop handle (R) is an adjustable rounded handle mounted on the shaft for support and control. The handle is designed to help control the machine in different positions, ideal for reaching tough spots. The handle is large enough to accommodate a gloved hand comfortably.
KM - Quick-Release Coupling
Quick-Release Coupling The quick-release coupling system makes it easy to switch between Kombi attachments. In addition, this feature allows KombiSystem equipment to be dismantled into two parts for easy transport and storage and then re-assembled quickly without tools. See it in action!
KM - Split Shaft
Split Shaft A split shaft and special toolless quick-release coupling lets you easily switch between attachments, making the KombiSystem highly versatile as well as easy to transport and store.
KM Pro - Multi-Function Control Handle
Multi-Function Control Handle Having easy access to all of the controls on one comfortable handle help makes it easier to complete tasks so the operator's hand never has to leave the handle.
KM - Purge Pump Primer
Purge Pump Primer A small fuel pump delivers fuel to the carburetor when pushed, reducing the number of starting strokes required following extended breaks in operation.