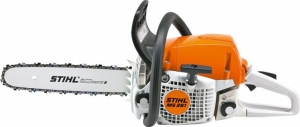 Product Information
Stihl MS 251 Chain Saw
The STIHL MS 251 Chain Saw is designed to deliver all the power you'd expect from STIHL equipment, yet with a comfortable and ergonomic design. The MS 251 is perfect for felling small trees, pruning and thinning, and cutting firewood simply and efficiently. And with up to 20 percent fuel savings and 50 percent reduced emissions (as compared to previous models), you can enjoy a longer run time while feeling good about your impact on the environment. Features like a Master Control Lever™ and reduced vibration make the STIHL MS 251 a lean, easy-to-use machine that still packs plenty of power.
DISPLACEMENT

45.6 cc (2.78 cu. in.)

ENGINE POWER

2.2 kW (2.95 bhp)

POWERHEAD WEIGHT

4.9 kg (10.8 lbs.)

GUIDE BAR LENGTHS* (Recommended ranges)

40 to 45 cm (16" to 18")




STIHL ROLLOMATIC®

FUEL CAPACITY

370 cc (12.5 oz.)

CHAIN OIL CAPACITY

190 cc (6.4 oz.)

OILOMATIC® CHAIN

.325 RM3
IntelliCarb™ Compensating Carburetor
The IntelliCarb™ Compensating Carburetor is designed to automatically adjust the air/fuel ratio when the air filter becomes restricted or partially clogged and maintains the engine's correct RPM. IntelliCarb™ uses air from the clean side of the air filter to control the diaphragm and flow of fuel. As the air filter becomes dirty and less air is available for the carburetor, the IntelliCarb™ system adjusts the fuel flow to compensate for the decrease in air flow. This is in contrast to typical carburetors that utilize this air from the "dirty" side of the air box.
Master Control Lever™
The Master Control Lever™ is an easy to use single lever, operating the choke, starting throttle lock and on-off switch. The operator must pull the throttle trigger before moving the Master Control Lever™ to the choke position.
Toolless fuel and oil caps with retainers
Simply lift the lever and twist the caps to remove or tighten. There's no need to use a tool to tighten or loosen.
**** STIHL products can NOT be shipped. These are on here so that local customers can see what we have in stock. ***