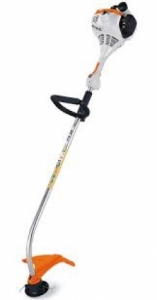 Product Information
Stihl FS 38
Stihl FS 38 Weed Trimmer
A lightweight, value-priced consumer trimmer with many quality design features.
Designed for those seeking a great entry level string trimmer at a value price, the FS 38 is ideal for the homeowner. Its lightweight design – just 9.3 pounds! - is surprising when compared to its power output. And its high cutting speeds and 15" cutting width allow the user to complete trimming tasks in a short amount of time. Combined with optimized balance, an ergonomic loop handle, curved shaft and low vibration, the FS 38 offers exceptional handling and maneuverability around landscaping obstacles.
You'll find nothing but quality components in all STIHL grass trimmers for the home. These aren't your typical trimmers – they feature streamlined, ergonomic designs, unyielding performance and durable parts made to last year after year. Here are a few of the features you'll find on every STIHL grass and weed trimmer:
Multi-Function Control Handle delivers easy access to ON/OFF and throttle controls on one comfortable handle. This makes it easy to use without the operator's hand ever leaving the handle. Some models feature a momentary stop switch, ensuring the switch is "ON" the next time you start – helping to prevent engine flooding.
Adjustable Front Handle can be positioned for optimal comfort.
Fuel-Efficient Engine runs longer on a tank of gasoline, reducing fuel costs.
Heavy-Duty Steel-on-Steel Centrifugal Clutch helps reduce slippage and provides durable, long-lasting wear.
Long-Life Engine Cylinders provide optimal cooling, lubrication and more power output per cubic centimeter of engine displacement for maximum wear life.
Easy-Access Air Filter allows for easy filter cleaning or replacement.
Easy-View Deflector provides easy-to-see cutting and is also designed to protect user against flying debris.
Electronic Ignition provides easier starting and smoother running.
High-Tech Polymer Housings are lightweight, withstand greater impact and are corrosion resistant.
Ergonomic Design reduces fatigue and enables comfortable operation.
Smooth Edges will not snag on clothing or brush.
Built-in Hanger in rear allows for easy storage.
Protected Choke Lever/Knob helps prevent damage.
Protected Spark Plug is protected yet easy to change.
Purge Pump Primer enables the user to prime the carburetor with fuel, providing easier starts.
Spark Arrester Muffler has large baffles which reduce noise level and contains a screen designed to reduce the emission of sparks.
Throttle Trigger Interlock helps prevent accidental acceleration.
Enclosed Throttle Cables eliminate dangling and loose wires.
Fully Lined Drive Shaft provides smooth operation and less vibration.
Upright Fuel Tank with Retainer Cap for easy fueling.
FS 38 Specifications

DISPLACEMENT

27.2 cc (1.66 cu in)

ENGINE POWER

0.65 kW (0.87 bhp)

WEIGHT*

4.2 kg (9.3 lbs)

FUEL CAPACITY

330 cc (11.2 oz)
Please note that we can NOT ship any STIHL items due to rules and regulations of the company.