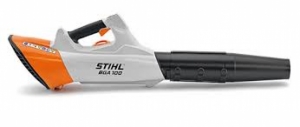 Product Information
STIHL BGA 100
The BGA 100 is designed for the professional landscaper using a backpack battery system for "all day" use. Compatible with STIHL backpack batteries (or battery belt adaptors), this lightweight blower is a great combination of power and run time. In fact, when in boost mode, the BGA 100 is the most powerful dedicated handheld blower in the STIHL range. This Lithium-Ion battery-powered blower even delivers performance superior to many gas-powered models.
Battery and charger NOT included in price. See dealer for details.
The battery must be worn on a battery belt or backpack – it cannot be mounted on the BGA 100 unit.
BATTERY: AP 100 AP 300 AR 900 AR 3000
Air Volume at Nozzle
**** STIHL products can NOT be shipped. These are on here so that local customers can see what we have in stock. ***