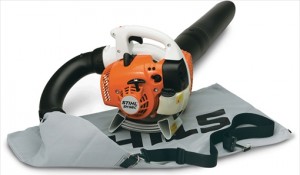 Product Information
Stihl SH 56 C-E Shredder
Stihl SH 56 C-E Shredder
A fuel-efficient shredder vac/blower with the convenience of the Easy2Start™ System.
The SH 56 C-E shredder vac turns yard work into less work. The fuel-efficient STIHL gasoline-powered engine really brings the power to the specially designed blade on the fan wheel – cutting yard waste down to size. Better yet, this versatile STIHL tool offers one power tool that does the work of two. It comes standard with the necessary parts to easily convert the shredder vac into a handheld blower. And as it shreds, the clippings accumulate in a secure, easy-open zippered bag for convenient emptying. And with the STIHL Easy2Start™ system,starting is easy – almost effortless.
STIHL Easy2Start™
The STIHL Easy2Start™ system makes starting STIHL® outdoor power tools almost effortless, eliminating the need for a strong pull of the starting cord. This advanced starting system is designed to make starting STIHL® products fast and easy. The specific system may vary by model, but in each case, a quick pull overcomes the engine's compression to minimize the strength and effort required to start. Available on selected products.
Shoulder Strap
The STIHL shoulder strap allows for greater maneuverability and helps reduce operator fatigue, allowing the user to work comfortably.
Multi-Function Control Handle
Having easy access to all of the controls on one comfortable handle helps makes it easier to complete tasks so the operator's hand never has to leave the handle.
Purge Pump Primer
The purge pump primer feature enables the user to prime the carburetor with fuel, enabling easier starting. The purge pump primer is designed in a way that the operator cannot flood the machine by priming the carburetor too many times. Flooding the engine is still possible if the choke is not removed after the engine fires.
COMMON FEATURES
Adjustable Nozzle is great for stairs and operators of different heights.
Protected Spark Plug is protected yet easy to change.
Throttle Trigger Lockstop Switch for ease of operation.
Purge Pump Primer lets you prime the carburetor without flooding it.
Air Filter Cover is easy to remove without tools for fast and easy filter cleaning or replacement.
Protected Spark Arrestor Muffler has large baffles which reduce sound level and contains a screen designed to reduce the emission of sparks.
High-Tech Polymer Housings are lightweight, withstand greater impact and are corrosion-resistant.
Helper Handle for added air direction control and vacuum use.
Upright Translucent Fuel Tank allows operator to easily check fuel level before starting work. Upright for easy filling.
OTHER COMMON FEATURES NOT DIAGRAMMED
Long-Life Cylinders give maximum wear life, better cooling and lubrication, and more power output per cubic centimeter of engine displacement.
Superior Balance and Design help reduce fatigue and make handling easy.
Smooth, Clean Design has no rough edges to snag on clothing or brush.
2-Ring Pistons improve engine efficiency and hold compression longer than 1-ring pistons. Also they transfer heat from the piston to cylinder better, helping engine stay cooler and last longer.
Electronic Ignition provides easier starting, smoother running and no periodic maintenance.
ADDITIONAL FEATURES
These features are found on some STIHL handheld blowers.


Conversion Kits convert blowers into vacuums. Available on some models
IntelliCarb™ Compensating Carburetor measures air on clean side of air filter and adjusts metering diaphragm in carburetor. Keeps RPM level even when filter begins to clog.
Anti-Vibration System helps reduce operator fatigue.
Easy2Start™ System (E) reduces the strength and effort needed to start the engine.
Available on select models.
ElastoStart™ Handle has a built-in shock absorber for smoother starting.
*STIHL handheld blowers have many common features. However, all models may not have all the features shown here.
DISPLACEMENT

27.2 cc (1.66 cu. in.)

ENGINE POWER

0.7 kW (0.9 bhp)

WEIGHT

5.2 kg (11.5 Ibs.)

FUEL CAPACITY

540 cc (18.3 oz.)

AIR VELOCITY

Round: 64 m/sec (143 mph)

AIR VOLUME (Vac mode)

710 m3/h (418 cfm)

SOUND PRESSURE RATING

70 dB(A) Vac & Blower




Measured per ANSI B 175.2

BAG CAPACITY

1.5 cu. ft. = 1.2 bushel

AIR VOLUME

Round: 710 m3/h (418 cfm)
**** STIHL products can NOT be shipped. These are on here so that local customers can see what we have in stock. ***