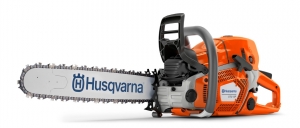 Product Information
Husqvarna 572 XP
Starting at $1169.99 with a 20" bar and chain.
Tested in the world's most rugged environments, the Husqvarna 572XP® is ready for demanding work by forestry and tree care professionals. At just 14.5 lbs, the 572XP® has a better power-to-weight ratio and 12% higher cutting capacity than previous Husqvarna models in the same class. Excellent cooling and heavy-duty filtration maximize reliability, while a smart design accommodates longer guide bars. Thanks to AutoTune™, Air Injection™, and low vibration technology, the 572XP® empowers you to work all day. Get ready to cut faster, longer and better than ever with the 572XP®. Includes half wrap handlebars.
Higher cutting capacity: New engine design offers a wide usable RPM range for peak performance even under heavy loads. 12% higher cutting capacity (compared to previous models in the same cc-range) makes the saw ideal for productive operation - even when using long guide bars
Equipped with state-of-the-art filtration system: 572XP® carries - as standard - a large surface heavy duty filter for longer and better filtration. The filter has a larger filtration area compared to previous generation. Providing a chainsaw with a healthier engine optimized for long hours.
10 times quicker air/fuel mix adjustment: AutoTune™ ensures a correctly tuned engine setting and optimized engine performance in all conditions
Excellent cooling capacity for a longer engine life: Our new cooling system is optimized in every detail to give you a reliable chainsaw for any situation.
Cylinder displacement
70.6 cm³
Power output
5.8 hp
Recommended bar length, max
28 in
Weight (excl. cutting equipment)
14.5 lbs