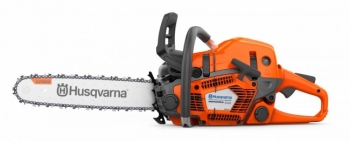 Product Information
Husqvarna 545 Mark II
The second generation of Husqvarna's 545 chainsaw is a 50cc unit that's ready for felling, limbing and bucking of small and midsize trees. Designed for professional forestry and tree care crews, this durable saw has improved power and a slimmed-down design. A host of innovative features guarantee comfortable and efficient operation, season after season.
Slimmed-down design: Low, slender saw body makes the chainsaw easy and convenient to handle in any situation.
Retained bar nuts: The retaining function prevents losing the bar nuts.
Adjustable oil pump: Allows you to control oil flow depending on application and weather conditions.
LowVib®: System designed to reduce vibration levels to the operator, which lessens fatigue.
X-Torq®: Delivers lower fuel consumption and reduced exhaust emission levels in accordance with the world´s most stringent environmental regulations.
Air Injection®: Centrifugal air cleaning system removes larger dust and debris particles before reaching the air filter. This results in reduced air filter cleanings and improved engine life.
Snap-lock cylinder cover: Saves time when changing spark plugs and cleaning.
Easy to start: Combined start/stop switch and fuel pump make the saw very easy to start.
Flip up tank caps: Easy to open and secure firmly, even when wearing thick winter gloves.