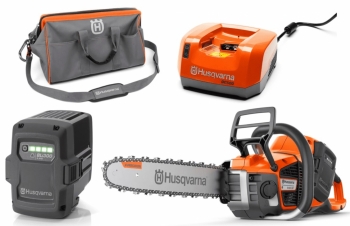 Product Information
Husqvarna 540i XP Chainsaw Kit 16″ #967864003
Kit contains - 540i XP, BLI300 battery, QC500 battery charger, and Husqvarna utility bag.
The Husqvarna 540iXP Chainsaw 16″ brings 40 ccs worth of battery power and a 16 inch cutting bar for easy and efficient performance in any conditions.
This chainsaw is all electric. It runs on a powerful BLi300 battery that delivers 40 ccs worth of power. Small and mid-sized trees don't stand a chance against this small but mighty saw and it's smoother than smooth cuts. While this saw is designed for professional users, it can also work wonders in the hands of a skilled homeowner.
With battery power comes many ergonomic features for effortless handling. Track your stats— battery charge, location, service history, and more— with the Husqvarna Fleet Services™ app.
This kit includes the chainsaw, battery, and charger.
Feature Highlights
Low maintenance
No need to worry about refueling thanks to an easy charge of the battery and don't suffer extra fuss with extraneous parts. This electronically controlled drive system helps you work more, recharge less and helps keep your operation costs lower than ever.
Husqvarna Connect
Use the FREE Husqvarna Connect app to access tips for making the most of your saw, open the manual on demand, and find recommendations for changing out parts. Also, when you connect your chainsaw to Bluetooth, this app will give you the download on your battery charge (and it's approximate runtime) as well as tips for maintenance. Download from the App Store or Google Play.
High chain speed
Higher chain speeds means more efficient work without sacrificing precision or performance.
Weatherproof (IPX4)
This battery-powered Husqvarna machine fulfils the IPX4 classification for rain resistance. This makes it a long-lasting and reliable tool that can be used all year round in all weather conditions.