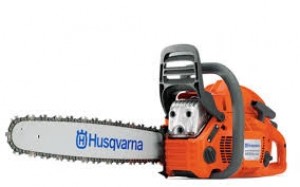 Product Information
Husqvarna 455 Rancher
Starting at $499.99 with a 18" bar and chain.
The 455 Rancher is an ideal saw for landowners and part-time users who require a high powered, heavy-duty and responsive workmate for all cutting conditions. It combines the best characteristics of standard Husqvarna chainsaws with new, facilitating technology and ergonomics. We offer this saw with a 20" laminated bar and .375 pitch chain.

FEATURES:
Side-mounted chain tensioner make chain adjustment quick and easy.
Forged three-piece crankshaft for maximum durability for the toughest applications.
Rubber suspension reduces vibrations in the carburetor. Provides smoother operation and longer product life.
Eco-pump that stops the lubrication when idling.
Angled front handle for better grip and natural working position.
Double acting chain brake, right hand guard and chain catcher make the saw safer to use.

SPECS
Cylinder displacement: 3.4 cu. inch / 55.5 cc
Power: 3.5 hp / 2.6 kW
Max RPM: 9,000
Fuel tank volume: 0.90 US pint / 0.44 liter
Oil tank volume: 0.70 US pint / 0.32 liter
Weight (powerhead only): 13.2 lbs. / 5.5 kg
Chain Pitch/Gauge/Drive Link: 3/8"/.050 or .058 /72 (H80-72 or 72V-72)