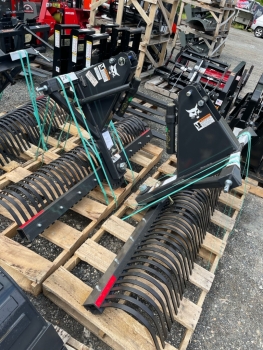 Product Information
Bobcat 72" Tine Rake for 3 Point Hitch
Model # 3TR72
Easily collects debris and smooths lawns in preparation for reseeding and fertilizing

Also put it to work maintaining gravel parking lots, driveways or walking trails

Quickly get rid of unwanted surface debris, including rocks, roots, hay, weeds, leaves and small tree limbs

Angle the 3-point rake to pull debris off to the side, straighten it to pull debris into a pile or reverse it to push debris piles out of the way
How The Tine Rake Works
The tine rake implement does not require power take-off (PTO). Simply attach it to the 3-point hitch and get started. It rotates a full 360 degrees with five forward and five reverse settings to be pulled or pushed, making it easy to collect and move material. Can be angled or reversed simply by relocating the index pin.
Things To Do With A Tine Rake
Tractor tine rake removes surface debris and prepares seedbeds for planting.
Smooths soil.
Maintains gravel driveways or walking paths.