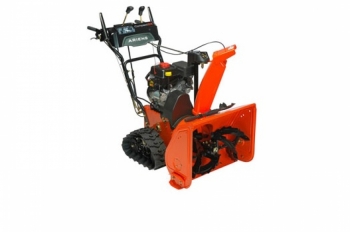 Product Information
Ariens Compact RapidTrack 24 inch
Model # 920032
Blow through snow while getting maximum traction on slippery, steep, or gavel surfaces with this Ariens Compact Track 24 Snow Blower. The 5.5" wide directional snow tracks are sure to keep you running on icy surfaces.You will be able to eliminate the need for pulling a string to start your blower with the 120V electric start that allows you to plug in, press a button,and get to work. Built for optimal quality and maximum performance, the new Ariens AX engine model offers up to 223cc of power and a 2+ hour run time to get your job done efficiently.
Ariens AX 223cc Engine: This snow blower features Ariens new AX engine model offering 223cc of power. These engines are built with optimal quality and the best torque maximum performance. This engine offers a 2+ hour run time, an oversized fuel shutoff and much more.
Clearing Width: A 24 inch clearing width moves plenty of snow, but is also a space saver in storage.
Starting System: 120V electric start with recoil backup.
Track Drive System: 5.5 inch wide directional snow tracks for additional traction.
Auger: A 11 inch steel serrated auger and impeller system throws snow up to 40 feet.
Gear Casing: The cast iron gear casing comes with a 5 year residential warranty and a 1 year commercial warranty.
Chute System: With a 200 degree chute turning radius and remote deflector, control the throw direction with ease.
Headlights: Equipped with an in-dash halogen headlight.
Technical Specs for the Ariens Compact Track 24*
Engine
Engine Brand Ariens AX223 by LCT
Displacement(cc) 223cc
Engine 4-cycle
Starting System 120V Electric Start w/ Recoil Backup
Gross Torque 9.5 ft-lbs
Warranty
Residential Warranty 3 years
Commercial Warranty 90 days
Features
Electric Start Yes
Hand Warmers Not Included
Slide Shoes Included
Drift Cutter Sold Separately
Remote Chute Rotation Yes
Lights Yes
Housing
Clearing Width (in.) 24 inches
Clearing Height (in.) 20 inches
Drive System
Drive Type Disc-O-Matic Track Drive
Speed 6-speed
Tire Size 5.5 inch wide tracks
Auger System
Auger Type Steel Serrated
Auger Diameter (in.) 11 inches
Max Throwing Distance (ft) 40 feet
Chute System
Deflector Control Operator Position
Chute Turning Radius (degrees) 200 degrees Quick-Turn