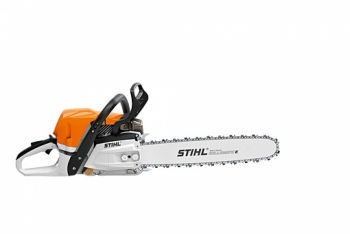 Product Information
STIHL MS 400 C-M
Designed for the most demanding tree care and forestry professionals, the STIHL MS 400 C-M has a magnesium alloy piston, a first in the chain saw industry. This magnesium alloy piston provides 13 percent greater displacement2, increased power and more torque without adding additional weight. This chain saw also includes STIHL M-Tronic™ engine technology to deliver low-emission, fuel-efficient performance under all operating conditions. Its lifetime HD2 air filter means you simply clean it instead of replacing it, while a pre-separation system removes large debris before it even gets to the air filter, thus increasing run time between cleanings.
STIHL chainsaws with excellent cutting performance for professional use in forests. Ideal for felling, delimbing, and preparation of wood in medium-density stands. Long-life air filter system with HD2 filter for excellent filtering effect. Easy and reliable starting, M-Tronic for consistently high engine performance. Captive nuts on the sprocket cover. Tool-free fuel caps for easy and reliable refuelling. The first chainsaw with a magnesium piston for an excellent power-to-weight ratio.
Technical specifications Value
Displacement 66,8 cm³
Power output 4/5,4 kW/bhp
Weight 1) 5,8 kg
Power-to-weight ratio 1,4 kg/kW
Sound pressure level 2) 107 dB(A)
Sound power level 3) 118 dB(A)
Vibration level left/right 4) 3,5/3,5 m/s²
Saw chain pitch 3/8"
Starting @ $919.99 with a 20" bar & chain